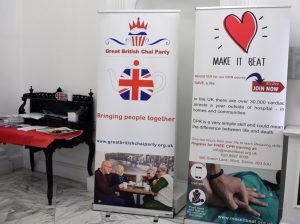 On 1st May 2017, Mayfair was the venue for The AYURVEDA FESTIVAL 2017.
Coolherbals were the proud sponsors and organisers of the Ayurveda Festival and the Make It Beat members have been present at Nehru Centre. Over 300 people made their way to Mayfair to attend this exciting event.
The beautiful iconic Nehru Centre was transformed into an Ayurveda Oasis. With lush waterfalls, fragranced bouquets and aromatic mists. The basement was converted into an ayurvedic spa with treatment tasters going on all day, from ayurvedic head massages, Reiki, henna , ayurvedic facials and pain relieving treatments . Coolherbals had free testers to try out from potlis to creams. Ayurvedic doctors gave free consultations. To calm down after all this excitement, the Yoga and Meditation Zone was full all day to provide peace and sanctuary. Speakers from as far as the USA kept the audience captivated with interesting lectures on An Ayurvedic way of Life and The paradox of Happiness . Coolherbals launched their Ayurvedic 24K Gold Facial on the stage which produced magnificient results. The festival finished off with The Diabetes Conference with experts from the world of Medicine and Ayurveda. The event was covered by Zee TV and Asian Voice.
Look out for the event on tv this month. There were at least 30 organisations who participated in the Coolherbals Ayurveda Festival. If you missed this edition here are some pics from the event